Real Authentication is the leading online authentication service for luxury goods, offering a reliable and efficient service for authenticating products by Louis Vuitton, one of the world's most iconic luxury brands.
About Louis Vuitton
Louis Vuitton, also known as LV, is a French luxury fashion brand founded in 1854. The brand is known for its high-quality leather goods, including handbags, luggage, and accessories. The LV monogram is one of the most recognizable symbols in the fashion world and is synonymous with luxury and sophistication. Louis Vuitton's products are highly sought after by fashion enthusiasts and collectors worldwide, with the brand continuously innovating and expanding its product offerings.
Why are Louis Vuitton products so desirable?
Louis Vuitton products are highly coveted for their exceptional quality and timeless design. From the iconic Speedy and Neverfull bags to the sophisticated Petite Malle, Louis Vuitton products are crafted from the finest materials and are meticulously crafted to last a lifetime. With a reputation for innovative designs and attention to detail, Louis Vuitton products are highly collectible and have become a symbol of status and luxury.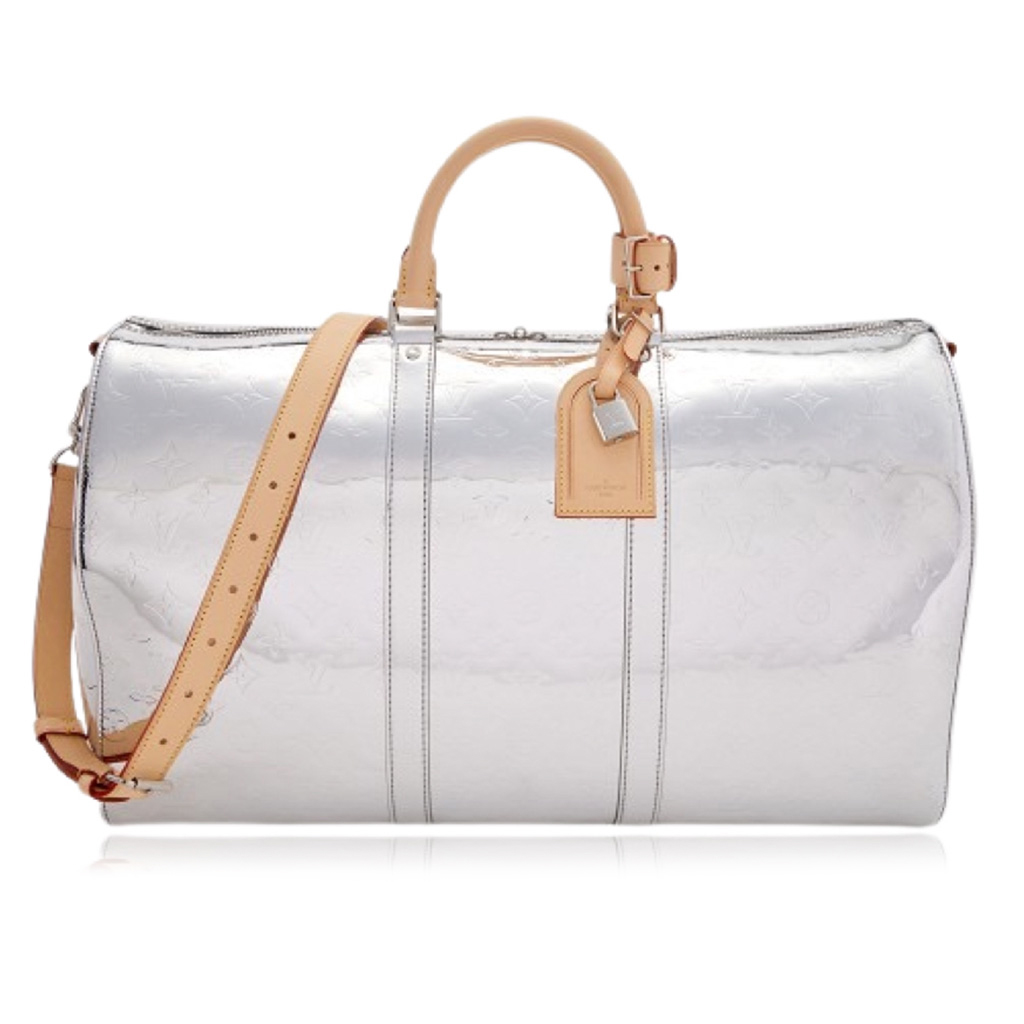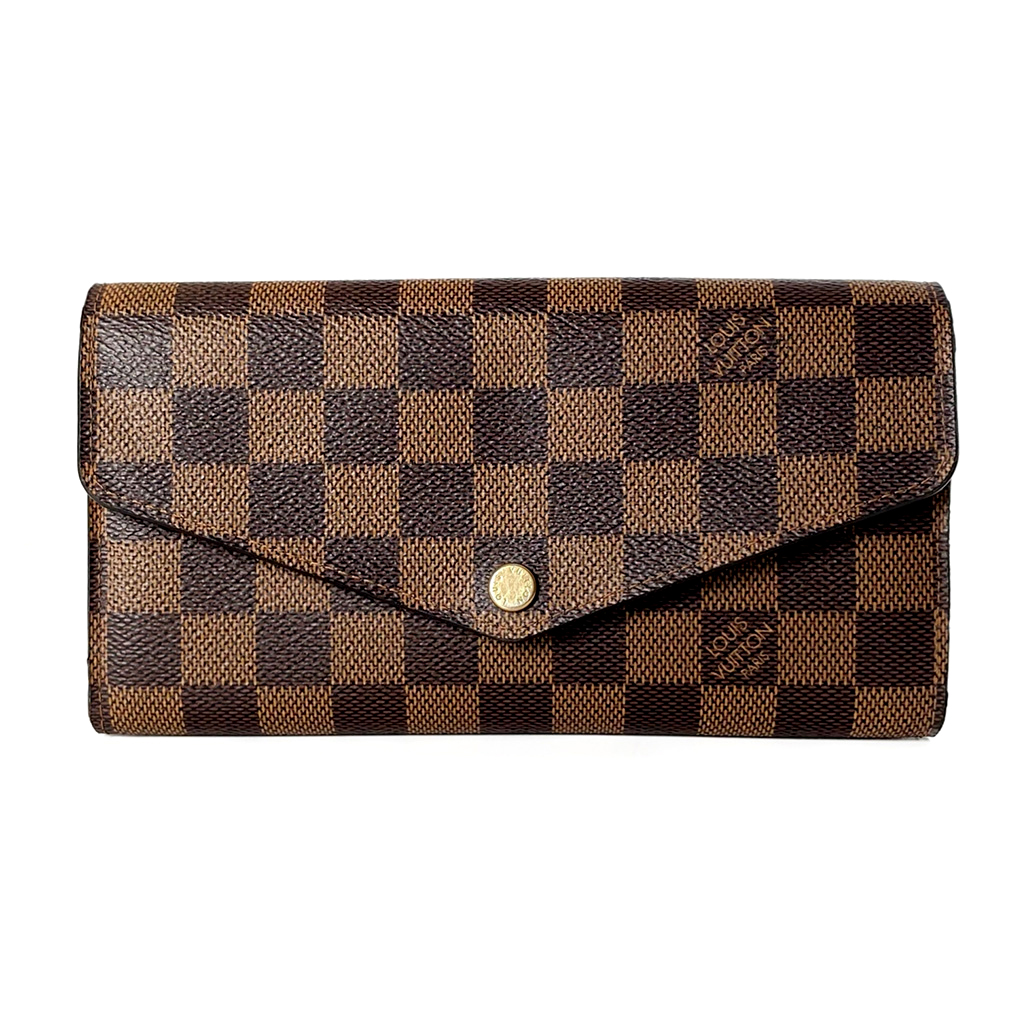 3 ACTIONABLE TIPS TO AUTHENTICATE LOUIS VUITTON ITEMS
Luckily, there are a few ways to know if that Louis Vuitton is authentic when buying and selling. 
1. LOUIS VUITTON DATE CODE AND LOGO
Louis Vuitton Logo stamps are applied to the brand's classic vachetta leather with heat, leaving them cleanly imprinted in the leather for years to come. If the item is crafted with a specialty leather, the logo may be foiled onto the item or embossed in the leather.
Louis Vuitton bags feature a highly nuanced variation of date codes that indicate the factory of production and age of the item, though these date codes were discontinued in 2021 and replaced with a hidden scannable microchip.
Most commonly made in France or Italy, many are surprised to learn that Louis Vuitton has factories in Spain, USA, Germany, and even Switzerland as well.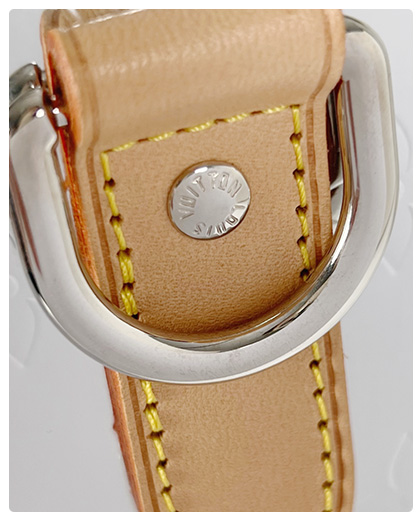 2. INSPECT LOUIS VUITTON STICHING
Look for Louis Vuitton branded patterns in your item; the monograms, the stitching, and the details should look uniform and high quality. Look out for cheap yellow thread in the seam, and stitch counts. The monogram patterns are diagonal. The order of the pattern should be a specific pattern of a circle, fleur-de-lis (the shield icon symbol of LV), and then the LV logo.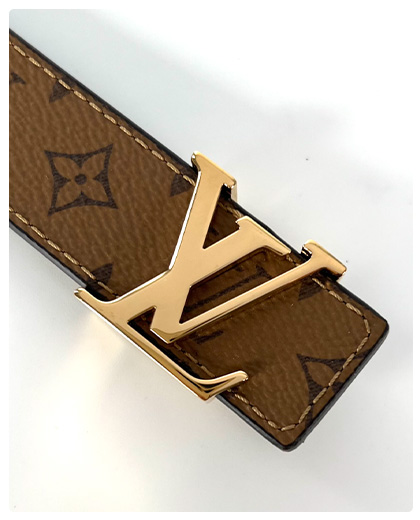 3. LOUIS VUITTON AUTHENTICATION DETAILS
Louis Vuitton hardware should be crafted of plated brass. The tone of metal can vary with age and model, typically showing a deeper shiny finish for older models and a lighter more matte finish for current models. It is not uncommon for the plating to wear away with time, but should still reveal a high grade brass metal beneath. 
Authenticate Louis Vuitton with Real Authentication
If you're looking to purchase a Louis Vuitton product, it's crucial to ensure its authenticity. At Real Authentication, we offer online authentication services for Louis Vuitton and other luxury brands. Our team of expert authentication specialists is dedicated to ensuring that each product is 100% authentic, giving you the peace of mind that you deserve.
Our Online Luxury Goods Authentication Service
Real Authentication is the trusted luxury goods authentication service for authentic luxury goods online. Our online authentication for designer goods, including Louis Vuitton products, is guaranteed to provide you with a reliable and efficient service. Our authentication experts use state-of-the-art technology and a Smart Database Scan™ to determine authenticity, and once your order is complete, you will receive email notifications with our determination of 'Authentic' or 'Counterfeit.' Trust Real Authentication for all your luxury goods authentication needs.
LOUIS VUITTON AUTHENTICATION: DATE CODES
Louis Vuitton date codes were introduced in the early 1980's. These codes were a guideline in letting the consumer know what year the item was made as well as what factory the item was crafted in. With the exception of vintage date codes, Louis Vuitton date codes typically consist of a minimum of 2 numbers and 2 letters. Date codes were phased out in 2020, and replaced with RFID (Radio Frequency Identification) chips. You may still see some from 2021 with lingering date codes, however come 2022, most all items were moved to the RFID chips, which can be scanned by Louis Vuitton employees.
FACTORY LOCATIONS
Louis Vuitton makes their items in 6 different countries. The list is as follows:
France

Germany

Italy

Spain

Switzerland

USA
*Louis Vuitton only manufactures within these outlined countries. If any other country is listed within the item, it would be considered a "red flag" and would require extra review. 
LOUIS VUITTON DATE CODES: HOW TO READ 
Date codes have progressed over the years and consistently change in hopes to avoid further counterfeiting. Below are the 4 main components of the date code evolution. It's evolved from using just a sequence of numbers to then incorporating alphabetic characters to correspond to each factory location. This means that the date codes are not unique to the item as they solely represent the time/location the item was produced.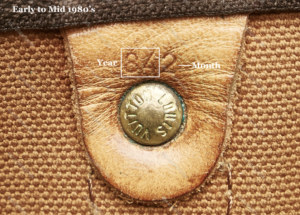 Early 1980's 
Consists of 3-4 numbers. The first two indicate the year the item was created and the last number(s) determine the month the item was made. 
Photo example: 842, would translate to February of 1984
Early to late 1980's
Consists of 3-4 numbers and the addition of 2 alphabetical letters that indicate the factory location the item was made in.
Photo example: 842 AN translates to February 1984, made in France. (Correspond the factory with the "made in stamp" and the chart below)
1990-2006 
Consists of two alphabetical letters representing the factory location, followed by a series of 4 numbers. The first and third indicating the month the item was made and the second and fourth indicating the year the item was made.
Photo example: VI 1028, made in December of 2008 in France.
2007-mid 2021
Consists of two alphabetical letters representing the corresponding factory location, followed by a series of 4 digits. The first and third indicating the week and the second and fourth indicating the year the item was made.
Photo example: SD 2157. Made in U.S.A. in the 25th week of 2017.
LOUIS VUITTON AUTHENTICATION: DATE CODE CHART
A0, A1, A2, AA, AAS (special order), AH, AN, AR, AS, AX, BA, BE, BJ, BU, DK(relined), DU, DR, DT, CO, CT, CX, CV, ET, FL (also USA), GR, IT,  LA, LW, MB, MI, ML, MM, MS, MX, NO, RA, RE (also Italy), RI, SA (Also Italy), SD(Also USA), SF, SL, SN, SP, SR, TA, TJ, TH, TN, TR, TS, TQ, TY, VI, VX
BA, BC (Also Spain), BO, CE, FA (also Switzerland), FN, FO, FW, LE, MA, NQ, NZ, OB, PL, RC, RE, RO, SA (Also France), ST, TD, TB
BC (Also Italy), CA, CR, GI, JG, LO, LB, LM, LW, UB
DT, FC, FH, LA, OS, SD (also France), FL (also France), TX
LOUIS VUITTON AUTHENTICATION: DATE CODE PLACEMENT
While it's known these codes are present, most can find them difficult to locate. They're not intended to take away from the design of the item, therefore they're typically tucked away in an inconspicuous part of the item. The top 5 common locations are as follows:
Leather tab within the inner pocket lining
Leather tab within the inner side seam of the interior lining
Heat stamped into the leather exterior trim 
Heat stamped on the inner top pocket seam (typically the hardest to find as it's imprinted on the material – directly such as Alcantara)
Heat stamped underneath the inner flap pocket (Speedy specific)
This gives a general idea to get familiar with the interior lining of your bag. Take a moment to look through the inner compartments and locate the date code to decipherer yourself.
LOUIS VUITTON AUTHENTICATION: DATE CODES ON RECEIPTS?
Date codes are only located within the item directly. They are not printed on the receipts. What's printed on receipts is the model ID number. You can use that number to directly identify the model name/information in regard to your purchase.
Here at Real Authentication, We Authenticate Louis Vuitton:
– Louis Vuitton Handbags
– Louis Vuitton Purses 
– Louis Vuitton Clothing
– Louis Vuitton Wallets
– Louis Vuitton Menswear
– Louis Vuitton Accessories
– Louis Vuitton Household Items
Is My Louis Vuitton Fake?
Counterfeit products today are not always easy to spot. It takes the eye of a professional to guarantee the authenticity of your product, and to allow you to shop with confidence.
That's what we at Real Authentication promise. We will connect you with a minimum of two authenticators who will carefully and meticulously examine your fashion, then either assure you that it's real or let you know it's a counterfeit. We use advanced technology to evaluate your product in conjunction with our years of professional experience.
Not only does Real Authentication offer trustworthy and reliable authentication, but we also are recognized as experts in our field. For that reason, we're trusted by eBay, PayPal and credit card companies. We can help you recover funds you've lost if you've been a victim of counterfeit.