Offer Returns, Let us handle them.
Return Assurance gives you a 7-day return window on otherwise final sale items. If shoppers are unhappy with the purchase for any reason, Seel will buy it back from the shopper for 100% of the purchase price they paid. Shoppers can use the Seel Resolution Center to effortlessly make the return. Shipping and return shipping fees are not included and paid for by the client. The cost of the Return Option is non-refundable. All returns will be authenticated via Real Authentication.
• Item doesn't fit
• No longer needed
• Dissatisfied with items
• Arrived to late
• Item doesn't fit
• No longer needed
• Dissatisfied with items
• Arrived to late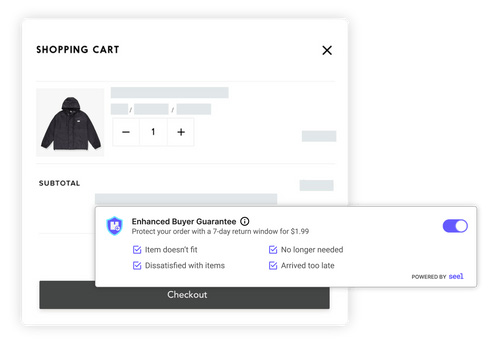 Shoppers opt in at checkout
Shoppers can add Return Assurance at checkout, for just a few extra bucks. Seel uses A.I to predict the probability of return before an order is placed, so Return Assurance is offered at low cost to high quality shoppers.
1-click add return option on final sale items
6% conversion lift by giving shoppers peace of mind
Dynamic pricing based on each order's probability of return
Return to Seel for any reason
Shoppers can return unwanted items to Seel, so you and your sellers don't need to do a thing!
Simple and intuitive return portal for shoppers
Auto generated shipping label to make returns a breeze
Zero effort for you or your vendors
Returns authenticated by Real Authentication's in-person team of experts
Seel pay for the full refund
Once the item is confirmed authentic by Real Authentication, Seel pays for the full refund when the returning package is received. You and your sellers keep the full revenue from the original sale.
Refund customers without paying for it
97% fewer disputes on orders covered by Return Assurance
Manage it all in one dashboard
Manage orders, refunds, billing and more in an intuitive yet powerful dashboard. We also offer API integration.
Manage orders, refunds, and billing in one place
Powerful analytics and download functions
Configure Return Assurance settings in your store
POWERING THE RISK-FREE SHOPPING EXPERIENCE FOR 2K+ MARKETPLACE, DTC BRANDS AND SaaS
DESIGNER REVIVAL CHANGES THE GAME WITH SEEL
29%
Lift to Online Conversion Rate
37%
Attach Rate
6%
Lift to Online Conversion Rate
"Seel really allows us to compete because all the bigger guys take returns. For small businesses that can't really afford to do so, especially with resale when you have one-of-a-kind items, being able to take returns has allowed us to succeed and really compete."
Tiffany Keriakos
‍CEO & Founder of Designer Revival
LEARN MORE ABOUT RETURN ASSURANCE