Real Authentication is the leading online authentication service for luxury goods, providing a reliable and efficient service for authenticating Gucci products. Our authentication experts conduct a thorough analysis of each product to determine its authenticity, and our secure platform ensures the confidentiality of your information.
About Gucci
Gucci is a luxury fashion brand founded in Italy in 1921. The brand is renowned for its bold designs and innovative approach to fashion, making it a favorite among celebrities and fashion enthusiasts. From handbags to clothing to shoes, Gucci products are crafted with the highest quality materials and exquisite attention to detail.
Why Gucci Luxury Goods are So Desirable
Gucci luxury goods are highly sought after for their iconic designs, innovative approach to fashion, and exceptional quality. The brand's products are known for their bold use of color and pattern, as well as their unique designs and expert craftsmanship. From the signature interlocking G logo to the iconic green and red stripe, Gucci products are instantly recognizable and highly coveted by fashion enthusiasts and collectors worldwide.
3 ACTIONABLE TIPS TO AUTHENTICATE GUCCI ITEMS
Luckily, there are a few ways to know if that Gucci is authentic when buying and selling.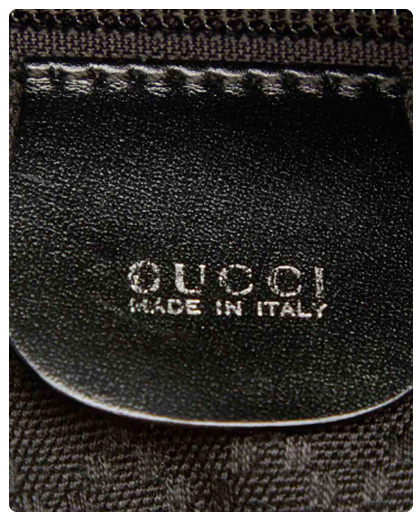 1. GUCCI DATE CODE AND LOGO
While you shop look for the interior logo and style code tag in the interior of your bag. You should also be able to clearly see the stamped ® symbol, the capitalized "GUCCI" signature, and finally the all lower case "made in italy" mark. Often counterfeits feature poorly stamped or overly sized logo stamps. 
On the back of the inner tab, you should see a series of numbers which indicate the style and material used for production. It is important to note here that vintage typography and codes do feature vast variation. 
2. INSPECT GUCCI STICHING
Starting at the very basics, when looking for a real luxury item, the first thing you should be able to clearly notice is the quality of the item. It should look perfect, feel luxurious to the touch, smell like natural leather, should be proportionate, and maintain its original intended shape.
Gucci items typically feature a thicker more bulky stitch than some other luxury brands. This helps ensure durability for years to come. 
3. GUCCI AUTHENTICATION DETAILS
Authentic GUCCI handbags are constructed with high-quality metal hardware. If you're shopping secondhand for a GUCCI bag and see lightweight metal, this is a huge red flag. Some fakes may even have plastic hardware.

Zippers should be solid metal and newer models will be engraved with the "GUCCI" signature.
If there's any doubt in your mind that your purchase is an authentic GUCCI, we're here to help. It's always worth investing a small amount to ensure that your purchase is a good one.
Authenticate Gucci with Real Authentication
When investing in a Gucci product, it's essential to ensure its authenticity. Real Authentication offers online authentication services for Gucci and other luxury goods brands. Our team of expert authentication specialists is dedicated to ensuring that each product is 100% authentic, providing you with the peace of mind that you deserve.
Our Online Luxury Goods Authentication Service
Real Authentication is the trusted luxury goods authentication service for authentic luxury goods online. Our online authentication for designer goods, including Gucci, is guaranteed to provide you with a reliable and efficient service. Our authentication experts use state-of-the-art technology and a Smart Database Scan™ to determine authenticity, and once your order is complete, you will receive email notifications with our determination of 'Authentic' or 'Counterfeit.' Trust Real Authentication for all your luxury goods authentication needs.
Here at Real Authentication, We Authenticate Gucci:
– Gucci Handbags
– Gucci Watches 
– Gucci Clothing
– Gucci Wallets
– Gucci Menswear
– Gucci Clothing
– Gucci Jewelry
– Gucci Household Items

Next time you're buying and selling Gucci handbags, shoes, and clothing, get it authenticated and get peace of mind. Our trained professionals can ensure that your investment is sound, as we've years of experience verifying designer handbags, shoes, clothing and more. Not one but two experts will use proprietary technology to evaluate your potential purchase, reviewing it thoroughly, reliably and accurately