Real Authentication is the leading online authentication service for luxury goods, offering a reliable and efficient service for authenticating Chanel products. Our authentication experts conduct a thorough analysis of each product to determine its authenticity, and our secure platform ensures the confidentiality of your information.
About Chanel
Chanel is a French luxury fashion house founded by Gabrielle "Coco" Chanel in 1909. The brand is known for its timeless designs, including the iconic Chanel suit and little black dress. Chanel is also renowned for its handbags, particularly the classic Chanel 2.55 bag. The brand's collections feature a range of ready-to-wear clothing, accessories, fragrances, and beauty products, all of which are highly coveted by fashion enthusiasts around the world.
What Makes Chanel Luxury Goods So Desirable?
Chanel luxury goods are highly desirable due to their exceptional quality, timeless designs, and iconic status. The brand's collections are characterized by their classic and sophisticated style, which transcends trends and seasons. Each piece is crafted with meticulous attention to detail, using only the finest materials and techniques. Chanel's luxury goods are highly sought after by fashion enthusiasts, collectors, and celebrities who appreciate the brand's iconic status and reputation for excellence.
3 ACTIONABLE TIPS TO AUTHENTICATE CHANEL ITEMS
Luckily, there are a few ways to know if that Chanel is authentic when buying and selling. 
1. CHANEL LOGO & SERIAL
Pay particular attention to the CC logo; the Cs should overlap appropriately, both on the hardware and on the stitched logo.
Your Chanel bag will include a serial number. Take note of this before you buy. Serial stickers were first introduced in 1986 and then discontinued and replaced with metal serial plates in 2021. 
Many Chanel products are originally sold with authenticity cards, however authenticity cards alone are not reliable sources to determine whether your piece is authentic or not as they are effortless to copy and easily interchangeable from one bag to the next.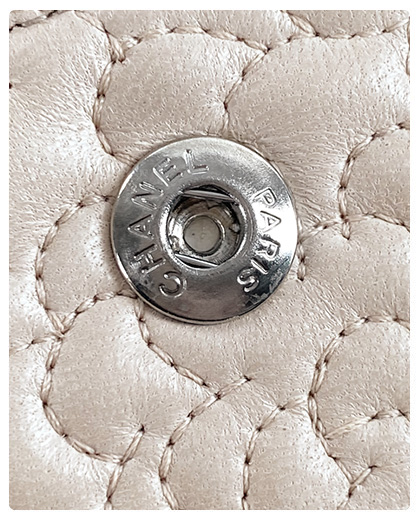 2. INSPECT CHANEL STICHING
Chanel bags are known for a high stitch count that preserves their original shape for years to come. Though this can vary with age and style, a general rule of thumb is each diamond quilt should have a minimum of 10+ stitches in it. The diamond quilts should also perfectly align around the whole bag regardless of pockets, seams, or other fabric interruptions.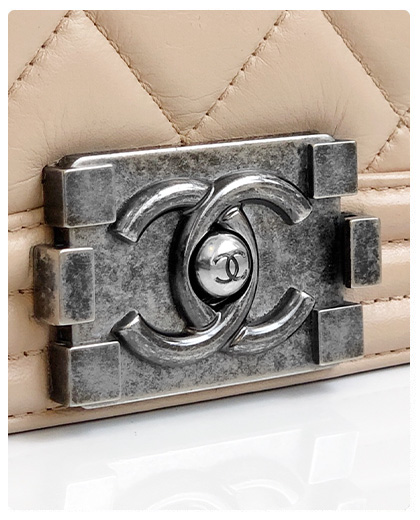 3. CHANEL AUTHENTICATION DETAILS
Chanel is recognized worldwide for its top-notch quality. The designer uses only the best materials and the finest attention to detail when crafting its handbags. Before you buy, take note of the quality. It should feel luxurious to the touch, with flawless stitching and seams and heavy hardware. Vintage models will often feature a small hallmark stamp on the front CC clasp.
CHANEL AUTHENTICATION: SERIAL STICKER REFERENCE
VISUAL DIFFERENCES BY AGE
SERIAL SERIES BY PRODUCTION AGE
Metal Engraved Plate (2021 and newer)
Authenticate Chanel with Real Authentication
Real Authentication is the leading online authentication service for luxury goods, providing trusted and efficient authentication services for authenticating Chanel products. Our authentication experts use state-of-the-art technology and a Smart Database Scan™ to determine authenticity, providing a reliable and efficient service. Our online authentication for designer goods is guaranteed to provide you with a reliable and efficient service. Once your order is complete, you will receive email notifications with our determination of 'Authentic' or 'Counterfeit.'
Trust Real Authentication for Your Chanel Luxury Goods
Real Authentication is the most trusted and reliable online authentication service for luxury goods, providing efficient authentication services for Chanel and other luxury brands. Our authentication experts use the latest technology and techniques to provide a guaranteed luxury goods authentication service, all conducted on our secure platform. Trust Real Authentication for your online luxury goods authentication needs and experience the peace of mind that comes with our trusted authentication experts. Authenticate your authentic luxury goods online with us today.
CHANEL AUTHENTICATION: AUTHENTICITY CARDS
Chanel authenticity cards have been originally sold with Chanel handbags and small leather goods since the serial sticker was first introduced in 1986. 
Authenticity cards are counterfeited just as often as handbags themselves. They are also interchangeable and though a seller may present a genuine authenticity card when selling an item, it in no way ensures the item in question is indeed authentic. 
Here at Real Authentication, We Authenticate Chanel:
– Chanel Handbags
– Chanel Watches 
– Chanel Clothing
– Chanel Wallets
– Chanel Menswear
– Chanel Accessories
– Chanel Eyewear
Real Authentication experts recommend all sellers and buyers get their items authenticated. Sellers with Chanel Authenticity Certifications sell faster and for more money. 
Don't waste money on an investment that's worth nothing. Instead, let Real Authentication ensure that your bag is a genuine Chanel bag.